(Have you ever seen escape rooms like this?)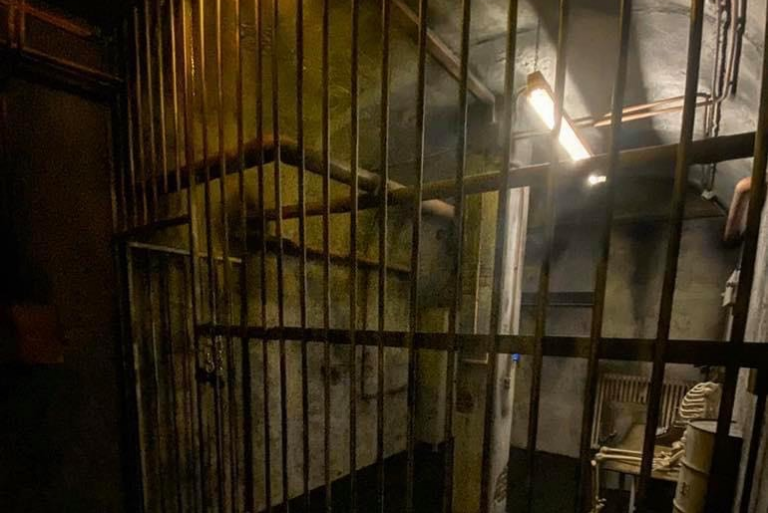 Area 51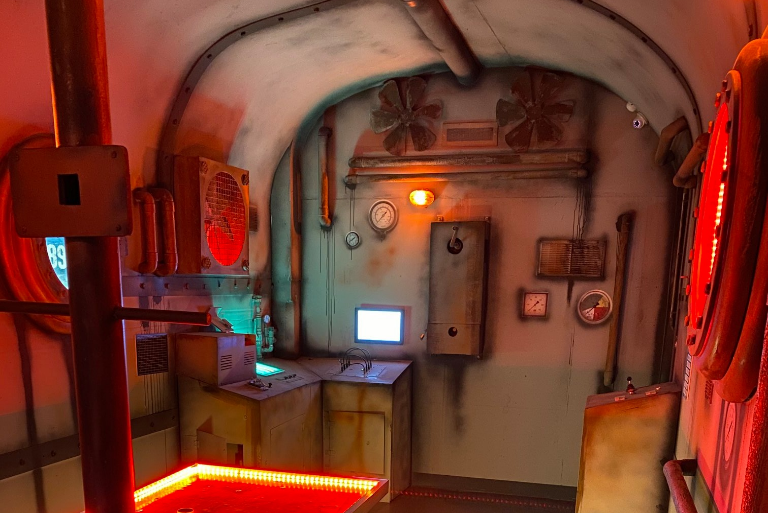 Escape from Atlantis
Dante's Inferno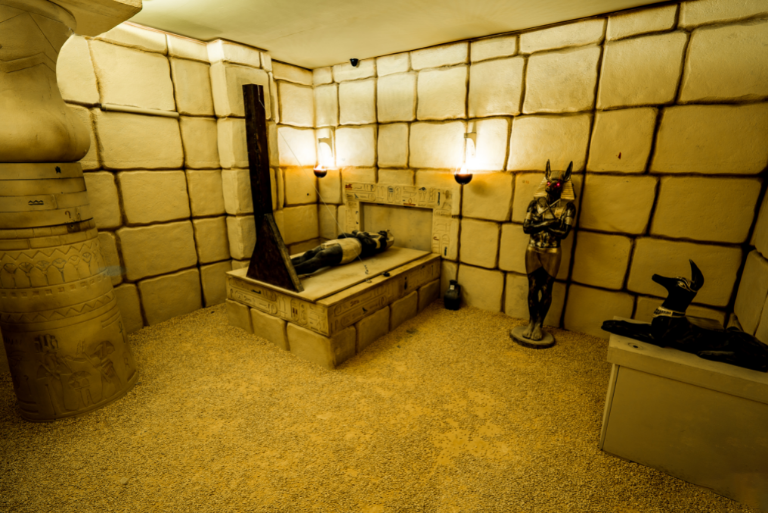 Tomb of Tutankhamun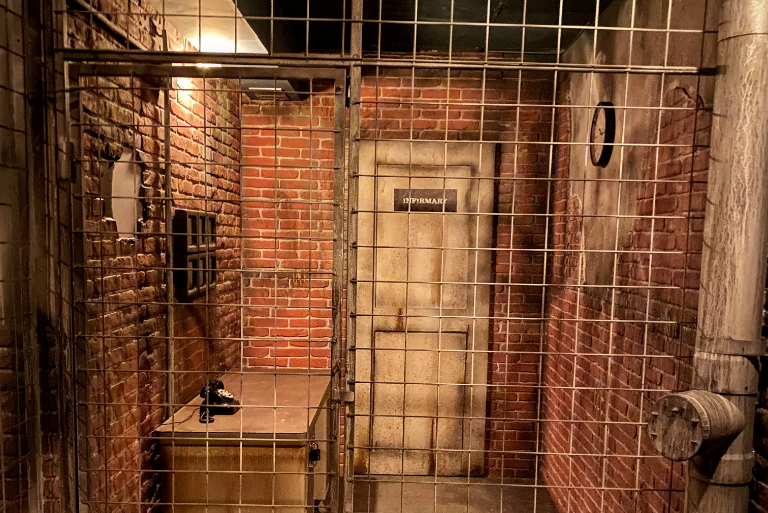 Psycho Hospital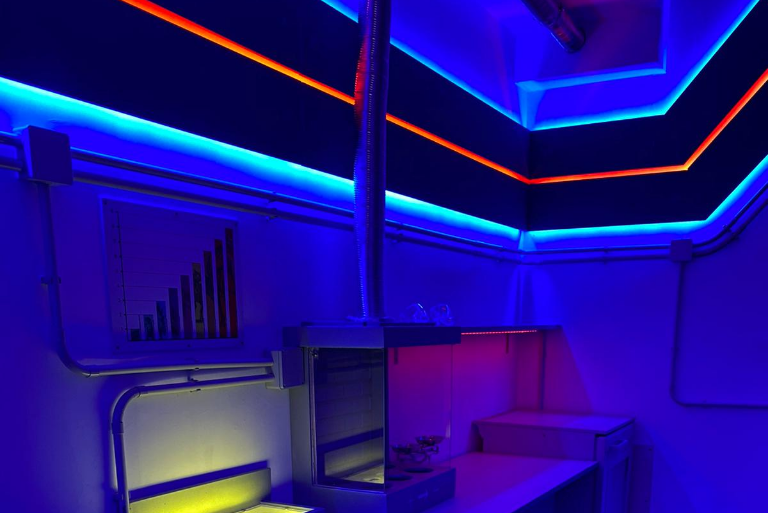 Jurassic World
HOW I OPENED MY ESCAPE ROOM AND I'M NOT AFRAID OF COMPETITION
If you are here, it's probably because you're in the same situation as I was 2 years ago, lots of ideas in my head but I didn't know where to start:
Do you have good ideas but don't know how to develop them?
Are you afraid of not being able to generate customers or that there is too much competition?
Do you not understand why you should choose one franchise over another?
Looking for an Escape franchise but they all seem the same?
Want to open franchises but the royalty rates are all high?
I'll tell you my story, it can definitely help you.
I have always been very into business and innovation, so about 2 years ago I started looking for an investment, regardless of the sector, it didn't take too long and allowed me to carry out my first project at the same time.
I went from food to entertainment to well-being, but all the activities I found faced the same problems:
start up costs too high compared to my options
monthly management costs too high (and therefore greater risk)
return of capital too long (3-5 years)
too much time to invest daily in the activity
saturated sector or too many competitors
THE TURNING POINT
I was about to give up, until one evening we went to an "escape room" in the centre of Bologna.
– "What is an escape room"
– "Dunno, let's try, it seems cool to me "
As I walked out of those 60 minutes of playing I had a crazy entrepreneurial vision!
Low investment + high turnover combined with very low operating costs =
BIG RETURN
I was then given the number of the owner, he told me about his experience, he explained that he had no experience in the field and therefore had chosen a "turnkey" product, like I was looking for, so I made the choice to join an Italian escape room franchise.
Initially I came out of the appointment with enthusiasm, the projections were good, the investment acceptable, and the return as well.
I was about to sign and leave, which was very bad for royalties, in some cases up to 30%.
It seemed more like a usury than a royalty, in spite of this I decided not to knock myself down, aware of the fact that I had no idea how to create an escape room I then decided to hear from other franchises, both emerging and otherwise.
From there began a 6-month search, study and appointments on appointments, but no one really satisfied me and made me say "yes, I want to do it with them" all proposals had the same problems:
% of royalties too high
bad/good copies of other escapes, none that stood out as DIFFERENT
"DIY" everywhere
low incomes
In sostanza non vedevo nulla di DIFFERENZIANTE, di INNOVATIVO, rispetto le altre..
In essence I didn't see anything DIFFERENTIAL, or INNOVATIVE, compared to the others…
I thought about what I had learned over the years, and I told myself:
In each sector there are only 2/3 market leaders, the others are at the very bottom. To quote known examples:
Phone systems: Apple, Samsung
Sportswear: Nike, Adidas
Social media: Facebook, Instagram, Twitter
and so forth…
I spent 3 months travelling around Italy to study the market and see the competitors in the sector.
It was clear that it was and is an explosive market.
THE IDEA
Once I saw the various competitors I thought…
I cannot do something equal or rely on something similar, I would be starting too disadvantaged compared to the competition, for the same product customers would go on the best known brand, I have to do something DIFFERENT.
However… "THE APPLE" of escape rooms is still missing in Italy!!!
And since the "boom" is coming here, both entrepreneurs and customers often find themselves not knowing which one to choose.
The only way to stand out in the middle of the tide was to DIFFERENTIATE.
I had to do it. But how?
THEN I ASKED MYSELF:
– "What does an escape room consist of?"
3 ELEMENTS.
SET DESIGN + PUZZLES + MARKETING
Often they all fail in the first and second, resulting in 'do-it-yourself' to save money and becoming the perfect example of how to NOT open a successful franchise:
Rooms 'similar' to the competition
Outdated and non-innovative themes
Royalties exceeding 15%
"Low cost" retail prices
Rooms not created by professionals (ask who built the Rooms)
If you find a franchise like this (and there are some), it will probably cost you little to open (and not necessarily) but it will cost you much more over the years!
IN LIGHT OF ALL THIS I THOUGHT:
– "If I took the best companies in these 3 fields, and put my company on the map, what would come out of it?"
Months and months of research, and in the end I found the solution…
– For the best scenographies THE NUMBER ONES IN ITALY, who are the N1 amusement parks in Italy?
Gardaland and Mirabilandia! We took the same set designers with us who created some sets for these amusement park giants.
– For the puzzles advice, a European company that has designed over 200 rooms in 12 years, including in Miami and New York, that is?
Rooms with laser systems and rotating columns..!
– With such a product marketing it would only have been downhill.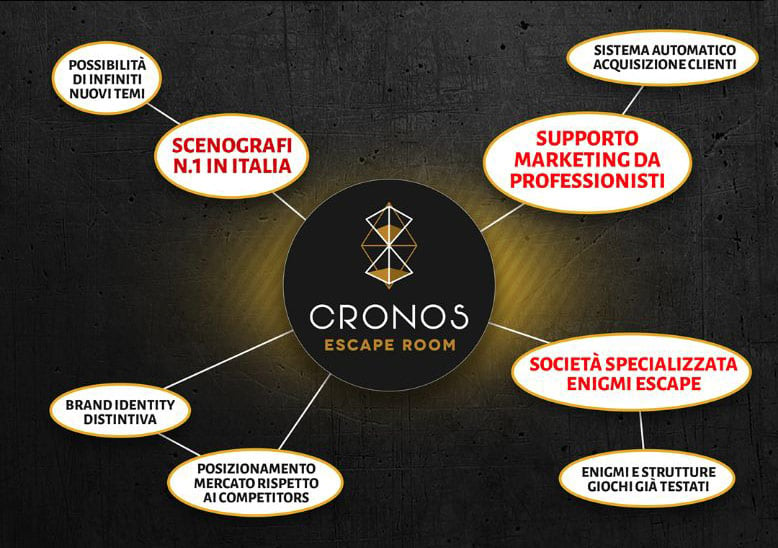 Would you prefer to play in a classic prison-themed escape or play a Dantean or Egyptian-themed adventure?
By combining these 3 elements, CRONOS was created.
Thanks to a team like this, we have created breathtaking themes like:
– Dante's Hell
– Tutankhamon's tomb
– Area 51
and others in processing such as:
– Escape from Atlantis
– The pirate ship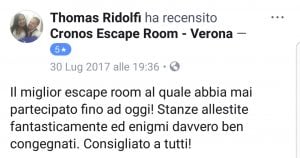 In doing so, I created what I was looking for:
turnkey activities
start-up costs in the market average, but with HIGHER quality.
low operating costs and low royalties
Return of fast capital (as early as the first year)
I do not have to dedicate time on a daily basis
a DIFFERENT product that fits in between the top ones
higher revenues than competition
exclusive area: Only ONE Cronos escape room per province
*for the first 3 openings reserved price on the rooms
NOW YOU HAVE DIFFERENT CHOICES:
1. STAY WHERE YOU ARE AND DO NOT CHANGE ANYTHING
2. CHOOSE A NORMAL ESCAPE AND HOPE TO BEAT THE COMPETITION
3. HAVE THE CONFIDENCE TO ENTER THE MARKET AS "APPLE" DID WITH PHONES.
I WANT TO KNOW MORE