Cronos Key
DID YOU PLAY AN ESCAPE ROOM AND LIKE IT?
Then you can only replicate the experience…
And thanks to Cronos Key, the more you play, the more you benefit!
BUT WHAT IS CRONOS KEY?
Cronos Key is the pass valid for all Cronos escape rooms in Italy (you can find them here) that gives you the right to advantages that no one else has, after you have played the adventures of escaping your city (at least once):
Enter the Cronos's story by signing the Wall Of Fame reserved ONLY for players who have played all the adventures in their city
You will receive a 30% unconditional discount if you play a new theme at Cronos in another city
You'll get a 50% discount if you play an adventure you've already played in the past
HOW MUCH DOES IT COST TO GET THE CRONOS KEY? IF I ASK FOR IT, AM I THEN OBLIGED TO PLAY?
It costs nothing! The only thing you need to remember is that the pass stays active for 8 months from the date of subscription, so to receive the prizes you will need to complete the 3 adventures in your city within 8 months in order to enjoy all the benefits.
WHAT DOES CRONOS KEY LOOK LIKE?
Progress indicator: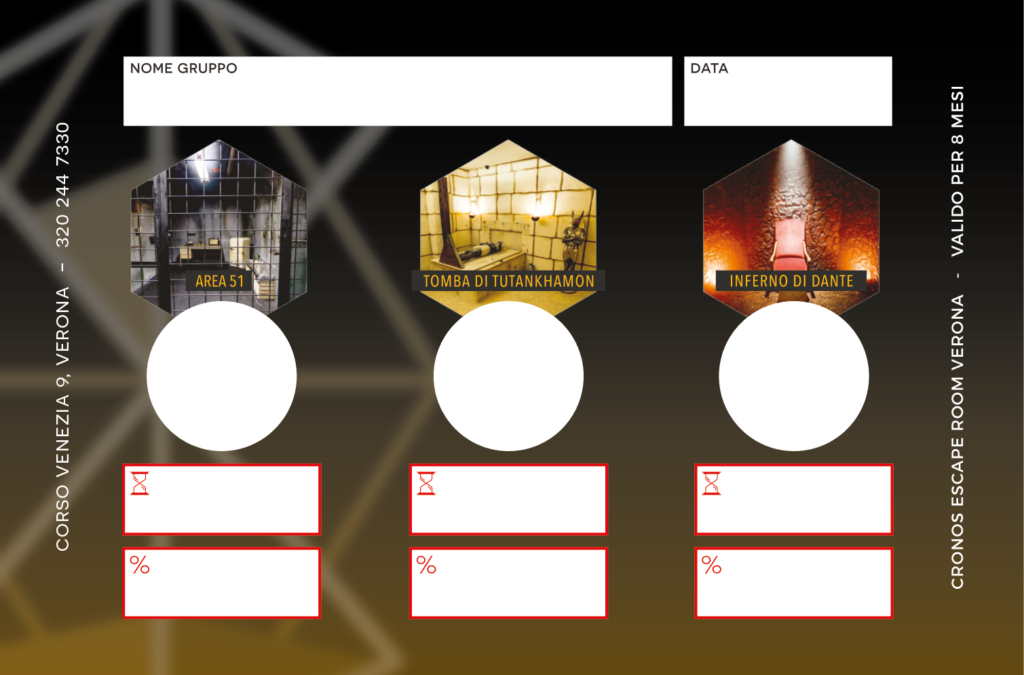 IS SOMETHING STILL NOT ENTIRELY CLEAR TO YOU?
Ask as many questions as you want to the master game of your city, we will be happy to answer you 🙂